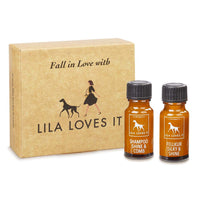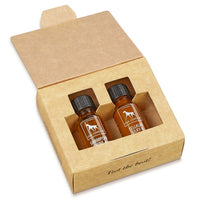 Sample Set Shine & Comb and Fur Treatment
incl. VAT plus CHF 7.90 postage costs
You want to know whether we keep our promises? Then test us!
Our four-legged friends love to be with us on vacation and we dog owners, also now look for holiday destinations explicitly based on dog-friendliness. In our opinion – really great.
But even in the distance there are puddles, mud holes or fragrant spots exclusively for the dog's nose. All the better if you have our LILA LOVES IT sample set with shampoo and coat treatment with you. This really fits in every pocket, no matter how small.
But our sample set is of course also suitable as a gift or for LILA LOVES IT newcomers to enjoy, test and convince yourself.
The SHAMPOO SHINE & COMB ensures uncomplicated cleaning and care of coat and skin. At the same time, your dog's skin is protected. SHAMPOO SHINE & COMB cleans all types of fur with natural ingredients. Even long and demanding fur becomes easier to comb and shines in new splendor!
After shampooing is before the fur treatment. The FUR TREATMENT ensures a wonderfully well-groomed, shiny and easier to comb coat. Dry, dull fur is intensively strengthened and cared for, the damaged skin is supported in its regeneration, scratching is reduced. The FUR TREATMENT can be washed out or left in the fur.
Contents:
1 x SHAMPOO SHINE & COMB 10ml
1 x FUR TREATMENT 10ml
Delivery time 1-3 working days
Selected dog accessories with style, which makes life with our dogs even more beautiful.