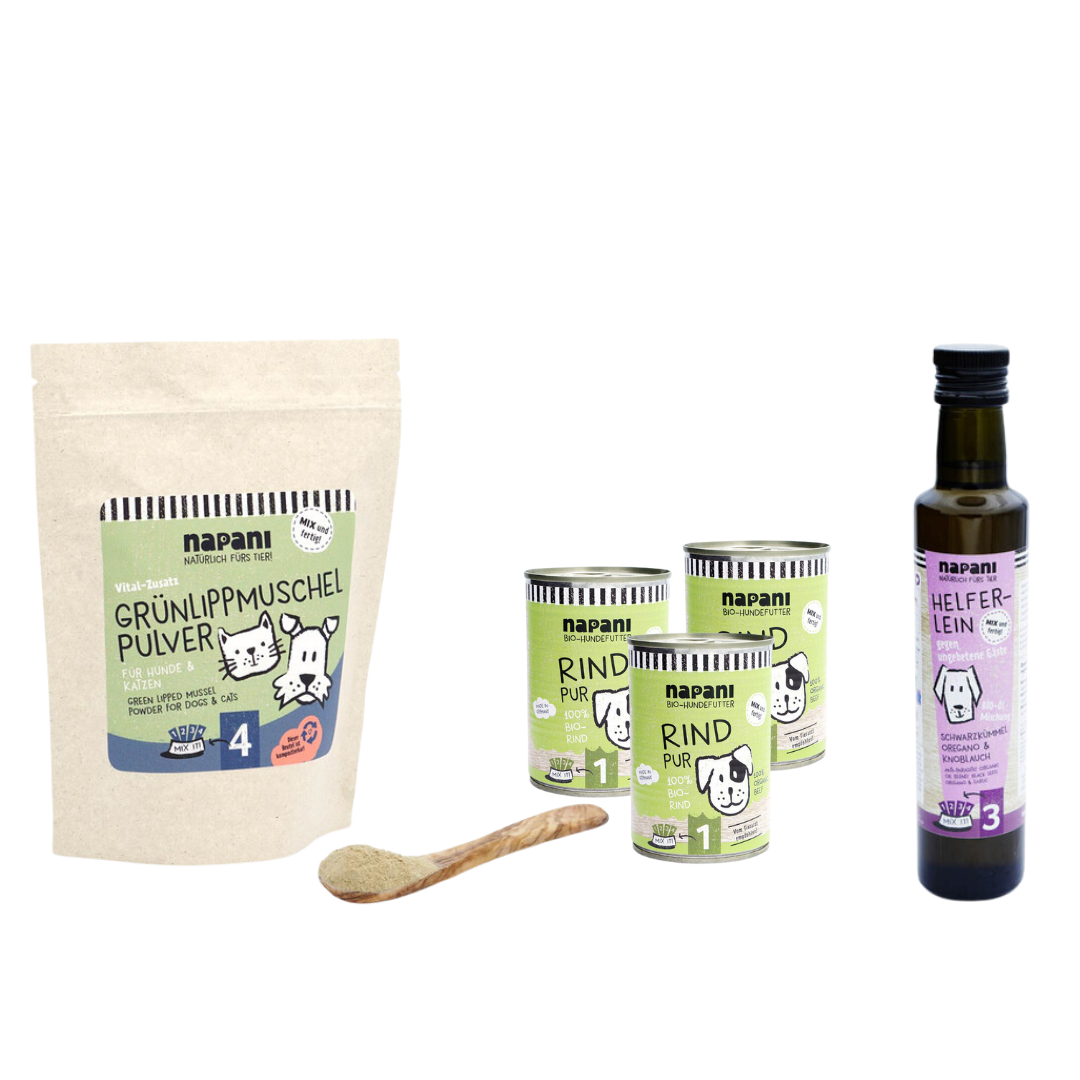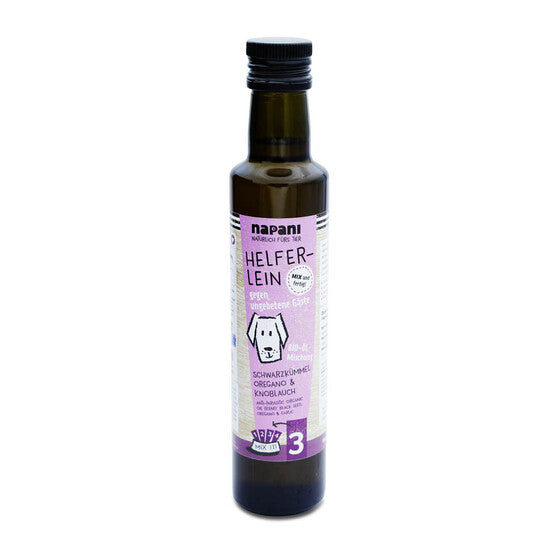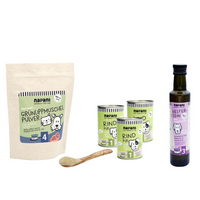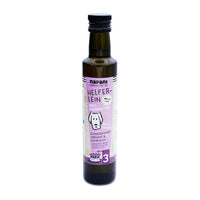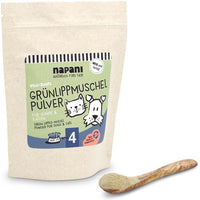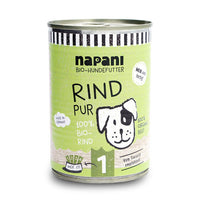 Weihnachtliches Snack-Set
incl. VAT plus CHF 7.90 postage costs
Rind pur (Reinfleisch 100%):
Wir glauben an eine bessere Welt und das Wohl aller Lebewesen auf diesem Planeten.
Unsere Lösung ist eine weltbewusste Ernährung: mit viel Gemüse, gesundem Obst,
lebenswichtigen Vitaminen, wertvollen Mineralstoffen und (nur) zu einem Drittel
bestem Bio-Fleisch.
Zutaten wenn möglich aus der Region

aus rein biologischer Landwirtschaft

natürlich schonend gegart

CO² neutral hergestellt

gut für Ihren Hund, die (Um)Welt und alle Lebewesen!
Mischen Sie unser napani Bio RIND PUR (1) mit unseren napani MIX & fertig! Bio-Basisfutter (2),
- oder auch mit frischem Gemüse und z. B. Reis - den wertvollen napani MIX & fertig! Bio Vital-Öl-Mischungen(3)
und napani MIX & fertig! Vital-Zusätzen(4).
Zusammensetzung
100% Bio-Rind (65% Muskelfleisch, 25% Herz, 10% Lunge)
Grünlippmuschelpulver (Vital-Zusatz):
Natürlich liebevoll füttern. Damit du die Möglichkeit hast auf die individuellen Bedürfnisse deines Lieblings einzugehen.
Unser napani Grünlippmuschel Pulver versorgt deinen Vierbeiner mit wertvollen Vitaminen, Mineralstoffen, Spurenelememten und Aminosäuren. Darüber hinaus kann sich sein hoher Glykosaminoglykan-Gehalt stärkend auf den Aufbau der Gelenke auswirken.  Grünlippmuscheln sind eine natürliche Taurin-Quelle und deshalb auch für Katzen eine natürliche und sinnvolle Nahrungsergänzung!


Die Zusammensetzung bringt beste Bio Mineralstoffe ins Futter deiner Fellnase.
Schon gewusst?
Das napani Grünlippmuschel Pulver stammt aus nachhaltiger Aquakultur aus Neuseeland!
Analytische Bestandteile
| | |
| --- | --- |
| Rohprotein         | 65,0% |
| Rohasche | 6,3% |
| Rohfaser | 0,0% |
| Rohfett | 9,0% |
Helferlein Bio (Vital-Öl-Mischung):
Unser kostbares Bio-Vital-Öl HELFERLEIN kann das Wohlbefinden ihres Lieblings fördern.
Außerdem kann es dabei helfen, ungebetene Gäste wie Parasiten von Fell und Körper fernzuhalten.
mit wertvollen Inhaltsstoffen

aus reiner BIO-Landwirtschaft

sorgfältig & schonend kalt gepresst

hergestellt in einer Allgäuer Mühle

Die richtige Mischung macht's: Eine ausgewogene, abwechslungsreiche Ernährung ist das Beste für Ihren Liebling.
Deshalb empfehlen wir ihnen die tägliche Zugabe unserer gesundheitsfördernden Mix & Fertig! Bio Vital-Öl-Mischungen zur Hundemahlzeit.
Bio-Schwarzkümmelöl, Bio-Oreganoöl, Bio-Knoblauchöl


Durchschnittlicher Energie u. Nährstoffgehalt je 100g: Brennwert 3700 kj / 900 kcal
| | |
| --- | --- |
| Fett 100,0g | |
| davon gesättigte Fettsäuren  | 16,0g |
| einfach ungesättigte Fettsäuren  | 25,4g |
| mehrfach ungesättigte Fetsäuren  | 58,6g |
| Kohlenhydrate 0g / Eiweiß 0g / Salz 0g | |
Delivery time 1-3 working days
Selected dog accessories with style, which makes life with our dogs even more beautiful.